| | | | |
| --- | --- | --- | --- |
| Item: | Last Modified: | Principle Designer: | Using: |
| NatickFOSS Business Card | 2011 | Algot Runeman | Inkscape |
| NatickFOSS Logo, etc. | 2011 | Algot Runeman | Inkscape |
| NatickFOSS Poster | 120501 | A. Richard Miller | Inkscape |
| NatickFOSS Splash Screen for "SeniorLinux" computer | 120525 | A. Richard Miller | Fotoxx |
NatickFOSS Business Card
(Ask for some at the next meeting.)
Front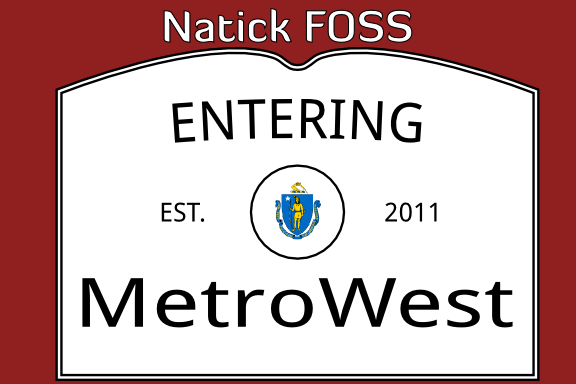 Back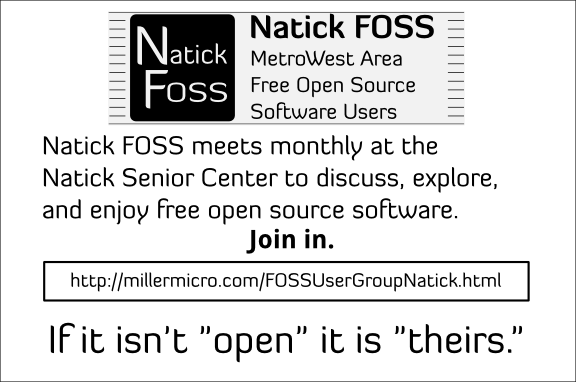 NatickFOSS Logo, etc.


Another version of a Web site button. More like the standard Web site "button" design.
Right click and "Save As" for this image will give you the PNG version 300px wide
Left click will give you the SVG image for the whole "page" and "Save page" will download the SVG.

This button is for use on a Web site.
It could also be made into an actual physical button or sticker to wear at your next meeting.
PNG - SVG




This button is also for use on a Web site, but might also be a button to make physically to wear around town.




NatickFOSS Poster
NatickFOSS Splash Screen for "SeniorLinux" computer