Some Favorite Poems

of A. Richard Miller
visits since 970316; last updated on 201026.

---
Introducing Wilfrid Gibson:
Wilfrid Wilson Gibson, poet and playwright, lived 1878-1962 in London and elsewhere in England. He founded the short-lived poetry magazine, "New Numbers". In 1917 he lectured in the United States, and in 1924 he wrote the play, "Kestrel Edge".
Here and there, Wilfrid Gibson's first name has been misspelled Wilfred. But I have read these two poems and many others in "Poems, by Wilfrid Wilson Gibson", NYC, September 1917, "Copyright 1912, 1914, 1915, 1916 and 1917 by The Macmillan Company". (That's what its title page says; its cover reads, "Collected Poems, by Wilfrid Wilson Gibson.") This book, acquired by the Natick library in 1918, is a direct and contemporary reference and its frontispiece is an unfinished portrait of him, with his personal signature beneath: the dot over the second "i" in "Wilfrid" is very clear. That's his own opinion, AFTER he wrote both poems -- it also lists dates for the collections in which each appeared: "The Dancing Seal" was in "Fires" (1910-11), "The Ice-Cart" in "Friends" (1915-16).
I first read these two poems in "Echoes of the Sea", an anthology of sea poetry by Elinor Parker; her book spells his name Wilfred, and has dozens of punctuation changes. The following versions are from the 1917 "Collected Poems, by Wilfrid Wilson Gibson". Their punctuation, while unorthodox, is authentic.
-- A. Richard Miller, 1991
---
THE DANCING SEAL
by Wilfrid Gibson, from "Fires" (1910-11)
When we were building Skua Light--
The first men who had lived a night
Upon that deep-sea Isle--
As soon as chisel touched the stone,
The friendly seals would come ashore;
And sit and watch us all the while,
As if they'd not seen men before;
And so, poor beasts, had never known
Men had the heart to do them harm.
They'd little cause to feel alarm
With us, for we were glad to find
Some friendliness in that strange sea;
Only too pleased to let them be
And sit as long as they'd a mind
To watch us: for their eyes were kind
Like women's eyes, it seemed to me.
So, hour on hour, they sat: I think
They liked to hear the chisels' clink:
And when the boy sang loud and clear,
They scrambled closer in to hear;
And if he whistled sweet and shrill,
The queer beasts shuffled nearer still:
But every sleek and sheeny skin
Was mad to hear his violin.

When, work all over for the day,
He'd take his fiddle down and play
His merry tunes beside the sea,
Their eyes grew brighter and more bright,
And burned and twinkled merrily:
And, as I watched them one still night,
And saw their eager sparkling eyes,
I felt those lively seals would rise
Some shiny night ere he could know,
And dance about him, heel and toe,
Unto the fiddle's heady tune.

And at the rising of the moon,
Half-daft, I took my stand before
A young seal lying on the shore;
And called on her to dance with me.
And it seemed hardly strange when she
Stood up before me suddenly,
And shed her black and sheeny skin;
And smiled, all eager to begin . . .
And I was dancing, heel and toe,
With a young maiden white as snow,
Unto a crazy violin.

We danced beneath the dancing moon
All night, beside the dancing sea,
With tripping toes and skipping heels:
And all about us friendly seals
Like Christian folk were dancing reels
Unto the fiddle's endless tune
That kept on spinning merrily
As though it never meant to stop.
And never once the snow-white maid
A moment stayed
To take a breath,
Though I was fit to drop:
And while those wild eyes challenged me,
I knew as well as well could be
I must keep step with that young girl,
Though we should dance to death.

Then with a skirl
The fiddle broke:
The moon went out:
The sea stopped dead:
And, in a twinkling, all the rout
Of dancing folk had fled . . .
And in the chill bleak dawn I woke
Upon the naked rock, alone.

They've brought me far from Skua Isle . . .
I laugh to think they do not know
That as, all day, I chip the stone,
Among my fellows here inland,
I smell the sea-wrack on the shore . . .
And see her snowy-tossing hand,
And meet again her merry smile . . .
And dream I'm dancing all the while,
I'm dancing ever, heel and toe,
With a seal-maiden, white as snow,
On that moonshiny Island-strand,
For ever and for evermore.
---
THE ICE-CART
by Wilfrid Gibson, from "Friends" (1915-16)
Perched on my city office stool,
I watched with envy, while a cool
And lucky carter handled ice. . . .
And I was wandering in a trice,
Far from the grey and grimy heat
Of that intolerable street,
O'er sapphire berg and emerald floe,
Beneath the still, cold ruby glow
Of everlasting Polar night,
Bewildered by the queer half-light,
Until I stumbled unawares,
Upon a creek where big white bears
Plunged headlong down with flourished heels
And floundered after shining seals
Through shivering seas of blinding blue.
And as I watched them, ere I knew,
I'd stripped, and I was swimming, too,
Among the seal-pack, young and hale,
And thrusting on with threshing tail,
With twist and twirl and sudden leap
Through crackling ice and salty deep --
Diving and doubling with my kind,
Until, at last, we left behind
Those big, white, blundering bulks of death,
And lay, at last, with panting breath
Upon a far untravelled floe,
Beneath a gentle drift of snow --
Snow drifting gently, fine and white,
Out of the endless Polar night,
Falling and falling evermore
Upon that far untravelled shore,
Till I was buried fathoms deep
Beneath that cold white drifting sleep --
Sleep drifting deep,
Deep drifting sleep. . . .

The carter cracked a sudden whip:
I clutched my stool with startled grip,
Awakening to the grimy heat
Of that intolerable street.
---
THE RHYME OF THE THREE SEALERS
by Rudyard Kipling
(in "The Seven Seas", D. Appleton & Co., New York, 1896)
Away by the lands of the Japanee,
When the paper lanterns glow
And the crews of all the shipping drink
In the house of Blood Street Joe,
At twilight, when the landward breeze
Brings up the harbour noise,
And ebb of Yokohama Bay
Swigs chattering through the buoys,
In Cisco's Dewdrop Dining Rooms
They tell the tale anew
Of a hidden sea and a hidden fight,
When the Baltic ran from the Northern Light
And the Stralsund fought the two!
Now this is the law of the Muscovite, that he proves with shot and steel,
When ye come by his isles in the Smoky Sea ye must not take the seal,
Where the gray sea goes nakedly between the weed-hung shelves,
And the little blue fox he is bred for his skin
and the seal they breed for themselves;
For when the matkas seek the shore to drop their pups aland,
The great man-seal haul out of the sea, aroaring, band by band;
And when the first September gales have slaked their rutting-wrath,
The great man-seal haul back to the sea and no man knows their path.
Then dark they lie and stark they lie--rookery, dune, and floe,
And the Northern Lights come down o' nights
to dance with the houseless snow.
And God who clears the grounding berg and steers the grinding floe,
He hears the cry of the little kit-fox and the lemming on the snow.
But since our women must walk gay and money buys their gear,
The sealing-boats they filch that way at hazard year by year.
English they be and Japanee that hang on the Brown Bear's flank,
And some be Scot, but the worst, God wot,
and the boldest thieves, be Yank!
It was the sealer Northern Light, to the Smoky Seas she bore.
With a stovepipe stuck from a starboard port
and the Russian flag at her fore.
(Baltic, Stralsund, and Northern Light--oh! they were birds of a feather--
Slipping away to the Smoky Seas, three seal-thieves together!)
And at last she came to a sandy cove and the Baltic lay therein,
But her men were up with the herding seal to drive and club and skin.
There were fifteen hundred skins abeach, cool pelt and proper fur,
When the Northern Light drove into the bight
and the sea-mist drove with her.
The Baltic called her men and weighed--she could not choose but run--
For a stovepipe seen through the closing mist, it shows like a four-inch gun
(And loss it is that is sad as death to lose both trip and ship
And lie for a rotting contraband on Vladivostock slip).
She turned and dived in the sea-smother as a rabbit dives in the whins,
And the Northern Light sent up her boats to steal the stolen skins.
They had not brought a load to side or slid their hatches clear,
When they were aware of a sloop-of-war, ghost-white and very near.
Her flag she showed, and her guns she showed--
three of them, black, abeam,
And a funnel white with the crusted salt, but never a show of steam.
There was no time to man the brakes, they knocked the shackle free,
And the Northern Light stood out again, goose-winged to open sea.
(For life it is that is worse than death, by force of Russian law
To work in the mines of mercury that loose the teeth in your jaw!)
They had not run a mile from shore--they heard no shots behind--
When the skipper smote his hand on his thigh
and threw her up in the wind:
"Bluffed--raised out on a bluff," said he, "for if my name's Tom Hall,
"You must set a thief to catch a thief--and a thief has caught us all!
"By every butt in Oregon and every spar in Maine,
"The hand that spilled the wind from her sail
was the hand of Reuben Paine!
"He has rigged and trigged her with paint and spar,
and, faith, he has faked her well--
"But I'd know the Stralsund's deckhouse yet
from here to the booms o' Hell.
"Oh, once we ha' met at Baltimore, and twice on Boston pier,
"But the sickest day for you, Reuben Paine,
was the day that you came here--
"The day that you came here, my lad, to scare us from our seal
"With your funnel made o' your painted cloth,
and your guns o' rotten deal!
"Ring and blow for the Baltic now, and head her back to the bay,
"For we'll come into the game again with a double deck to play!"
They rang and blew the sealer's call--the poaching cry o' the sea--
And they raised the Baltic out of the mist, and an angry ship was she:
And blind they groped through the whirling white,
and blind to the bay again,
Till they heard the creak of the Stralsund's boom
and the clank of her mooring-chain.
They laid them down by bitt and boat, their pistols in their belts,
And: "Will you fight for it, Reuben Paine, or will you share the pelts?"
A dog-toothed laugh laughed Reuben Paine, and bared his flenching knife.
"Yea, skin for skin, and all that he hath a man will give for his life;
But I've six thousand skins below, and Yeddo Port to see,
And there's never a law of God or man runs north of Fifty-Three.
So go in peace to the naked seas with empty holds to fill,
And I'll be good to your seal this catch, as many as I shall kill."
Answered the snap of a closing lock and the jar of a gun-butt slid,
But the tender fog shut fold on fold to hide the wrong they did.
The weeping fog rolled fold on fold the wrath of man to cloak,
And the flame-spurts pale ran down the rail as the sealing-rifles spoke.
The bullets bit on bend and butt, the splinter slivered free,
(Little they trust to sparrow-dust that stop the seal in his sea!)
The thick smoke hung and would not shift, leaden it lay and blue,
But three were down on the Baltic's deck and two of the Stralsund's crew.
An arm's length out and overside the banked fog held them bound;
But, as they heard a groan or word, they fired at the sound.
For one cried out on the name of God, and one to have him cease;
And the questing volley found them both and bade them hold their peace.
And one called out on a heathen joss and one on the Virgin's Name;
And the schooling bullet leaped across
and showed them whence they came.
And in the waiting silences the rudder whined beneath,
And each man drew his watchful breath slow taken 'tween the teeth--
Trigger and ear and eye acock, knit brow and hard-drawn lips--
Bracing his feet by chock and cleat for the rolling of the ships;
Till they heard the cough of a wounded man
that fought in the fog for breath,
Till they heard the torment of Reuben Paine that wailed upon his death:
"The tides they'll go through Fundy Race but I'll go never more
"And see the hogs from ebb-tide mark turn scampering back to shore.
"No more I'll see the trawlers drift below the Bass Rock ground,
"Or watch the Fall steamer lights tear blazing up the Sound.
"Sorrow is me, in a lonely sea and a sinful fight I fall,
"But if there's law o' God or man you'll swing for it yet, Tom Hall!"
Tom Hall stood up by the quarter-rail.
"Your words in your teeth," said he.
"There's never a law of God or man runs north of Fifty Three.
"So go in grace with Him to face, and an ill-spent life behind,
"And I'll take care o' your widows, Rube, as many as I shall find."
A Stralsund man shot blind and large, and a warlock Finn was he,
And he hit Tom Hall with a bursting ball a hand's-breadth over the knee.
Tom Hall caught hold by the topping-lift, and sat him down with an oath,
"You'll wait a little, Rube," he said, "the Devil has called for both.
"The Devil is driving both this tide, and the killing-grounds are close,
"And we'll go up to the Wrath of God as the holluschickie goes.
"O men, put back your guns again and lay your rifles by,
"We've fought our fight, and the best are down. Let up and let us die!
"Quit firing, by the bow there--quit! Call off the Baltic's crew!
"You're sure of Hell as me or Rube--but wait till we get through."
There went no word between the ships, but thick and quick and loud
The life-blood drummed on the dripping decks,
with the fog-dew from the shroud,
The sea-pull drew them side by side, gunnel to gunnel laid,
And they felt the sheerstrakes pound and clear, but never a word was said.
Then Reuben Paine cried out again before his spirit passed:
"Have I followed the sea for thirty years to die in the dark at last?
"Curse on her work that has nipped me here with a shifty trick unkind--
"I have gotten my death where I got my bread, but I dare not face it blind.
"Curse on the fog! Is there never a wind of all the winds I knew
"To clear the smother from off my chest, and let me look at the blue?"
The good fog heard--like a splitten sail, to left and right she tore,
And they saw the sun-dogs in the haze and the seal upon the shore.
Silver and gray ran spit and bay to meet the steel-backed tide,
And pinched and white in the clearing light the crews stared overside.
O rainbow-gay the red pools lay that swilled and spilled and spread,
And gold, raw gold, the spent shell rolled between the careless dead--
The dead that rocked so drunkenwise to weather and to lee,
And they saw the work their hands had done as God had bade them see!
And a little breeze blew over the rail that made the headsails lift,
But no man stood by wheel or sheet, and they let the schooners drift.
And the rattle rose in Reuben's throat and he cast his soul with a cry,
And "Gone already?" Tom Hall he said. "Then it's time for me to die."
His eyes were heavy with great sleep and yearning for the land,
And he spoke as a man that talks in dreams, his wound beneath his hand.
"Oh, there comes no good in the westering wind
that backs against the sun;
"Wash down the decks--they're all too red--and share the skins and run,
"Baltic, Stralsund, and Northern Light,--clean share and share for all,
"You'll find the fleets off Tolstoi Mees, but you will not find Tom Hall.
"Evil he did in shoal-water and blacker sin on the deep,
"But now he's sick of watch and trick, and now he'll turn and sleep.
"He'll have no more of the crawling sea that made him suffer so,
"But he'll lie down on the killing-grounds where the holluschickie go.
"And west you'll turn and south again, beyond the sea-fog's rim,
"And tell the Yoshiwara girls to burn a stick for him.
"And you'll not weight him by the heels and dump him overside,
"But carry him up to the sand-hollows to die as Bering died,
"And make a place for Reuben Paine that knows the fight was fair,
"And leave the two that did the wrong to talk it over there!"
Half-steam ahead by guess and lead, for the sun is mostly veiled--
Through fog to fog, by luck and log, sail ye as Bering sailed;
And, if the light shall lift aright to give your land-fall plain,
North and by west, from Zapne Crest, ye raise the Crosses Twain.
Fair marks are they to the inner bay, the reckless poacher knows,
What time the scarred see-catchie lead their sleek seraglios.
Ever they hear the floe-pack clear, and the blast of the old bull-whale,
And the deep seal-roar that beats off shore above the loudest gale.
Ever they wait the winter's hate as the thundering boorga calls,
Where northward look they to St. George, and westward to St. Paul's.
Ever they greet the hunted fleet--lone keels off headlands drear--
When the sealing-schooners flit that way at hazard year by year.
Ever in Yokohama Port men tell the tale anew
Of a hidden sea and a hidden fight,
When the Baltic ran from the Northern Light
And the Stralsund fought the two!
North of the Aleutian Islands, where the Japan Current spills warm water into the Bering Sea, fog prevails and storms are common. It cost Russian colonists twenty years of dangerous searching with a hundred ships in fog-bound seas before, in June 1786, they finally located the Pribilof Islands, elusive breeding grounds for the world's largest population of fur-bearing seals. By 1867, when Russia sold the Pribilof Islands and the rest of Alaska to the United States of America, these small isles were already heavily plundered by foreign sealing-schooners. "Seward's Folly" was hardly that, as the annual income from Pribilof Islands sealskins quickly returned more than the entire purchase price of Alaska!
Rudyard Kipling knew sailing ships, and if he didn't visit the Pribilof Islands in person, he certainly researched them well, as evidenced in this poem, and in his Jungle Book tale, "The White Seal" (with its explanations of Pribilof Islands terminology) and its sad seal-poem, "Lukannon".

For an accurate, contemporary description of these strange isles, their seals and sealers, see the following recommended reading:
"The Seal-Islands of Alaska" (The History and Present Condition of the Fishery Industries), by Henry Wood Elliott (of the "Smithsonian Institution"), Government Printing Office, Washington D.C., 1881.
"Investigation of the Fur-seal and other Fisheries of Alaska" by the U.S. House of Representatives, G.P.O., Washington D.C., 1889.
Also recommended:
"Libby -- The Sketches, Letters and Journal of Libby Beaman, Recorded in the Pribilof Islands, 1879-1880". by Libby Beaman.
"Sea Bears, The Story of the Fur Seal", by Fredericka Martin, Chilton Co., Philadelphia and Ambassador Books, Ltd., Toronto, 1960.
"Lord of Alaska", by Hector Chevigny, 1942.
"Russian America; The Great Alaskan Venture, 1741-1867", by Hector Chevigny, 1965.
"The Thousand-Mile War--World War II in Alaska and the Aleutians", by Brian Garfield, Doubleday & Co., N.Y.C., 1969.
See today's Pribilof Islands weather.
A poetry note: "And God who clears the grounding berg and steers the grinding floe" retains Kipling's punctuation from the 1896 original edition. Other online versions may show "God Who", or "God, who", instead.
Rudyard Kipling was the youngest poet to win the Nobel Prize for Literature. The second youngest was Albert Camus.

--A. Richard Miller, Natick, Massachusetts, U.S.A.; 1993
---
THE EXPLORER
by Rudyard Kipling (1898; in The Five Nations, 1903)


---
THE PALACE
by Rudyard Kipling (1865-1936; this poem 1902; in "The Five Nations", 1903)
When I was a King and a Mason--a master proven and skilled--
I cleared me ground for a palace such as a King should build.
I decreed and cut down to my levels. Presently, under the silt,
I came on the wreck of a palace such as a King had built.

There was no worth in the fashion--there was no wit in the plan--
Hither and thither, aimless, the ruined footings ran--
Masonry, brute, mishandled, but carven on every stone:
"After me cometh a Builder. Tell him, I too have known."

Swift to my use in my trenches, where my well-planned ground-works grew,
I tumbled his quoins and his ashlars, and cut and reset them anew.
Lime I milled of the marbles; burned it, slacked it, and spread;
Taking and leaving at pleasure the gifts of the humble dead.

Yet I despised not nor gloried; yet, as we wrenched them apart,
I read in the razed foundations the heart of that builder's heart.
As he had risen and pleaded, so did I understand
The form of the dream he had followed in the face of the thing he had planned.
- - - - - - - - -
When I was a King and a Mason--in the open noon of my pride,
They sent me a Word from the Darkness--They whispered and called me aside.
They said--"The end is forbidden." They said--"Thy use is fulfilled,
"And thy Palace shall stand as that other's--the spoil of a King who shall build."

I called my men from my trenches, my quarries, my wharves, and my shears.
All I had wrought I abandoned to the faith of the faithless years.
Only I cut on the timber, only I carved on the stone:
"After me cometh a Builder. Tell him, I too have known."


---

The Naming of Cats is a difficult matter,
It isn't just one of your holiday games;
You may think at first I'm as mad as a hatter
When I tell you, a cat must have THREE DIFFERENT NAMES.
First of all, there's the name that the family use daily,
Such as Peter, Augustus, Alonzo or James,
Such as Victor or Jonathan, George or Bill Bailey--
All of them sensible everyday names.
There are fancier names if you think they sound sweeter,
Some for the gentlemen, some for the dames:
Such as Plato, Admetus, Electra, Demeter--
But all of them sensible everyday names.
But I tell you, a cat needs a name that's particular,
A name that's peculiar, and more dignified,
Else how can he keep up his tail perpendicular,
Or spread out his whiskers, or cherish his pride?
Of names of this kind, I can give you a quorum,
Such as Munkustrap, Quaxo, or Coricopat,
Such as Bombalurina, or else Jellylorum-
Names that never belong to more than one cat.
But above and beyond there's still one name left over,
And that is the name that you never will guess;
The name that no human research can discover--
But THE CAT HIMSELF KNOWS, and will never confess.
When you notice a cat in profound meditation,
The reason, I tell you, is always the same:
His mind is engaged in a rapt contemplation
Of the thought, of the thought, of the thought of his name:
His ineffable effable
Effanineffable
Deep and inscrutable singular Name.


Thomas Stearns Eliot (1886-1965) won the Nobel Prize for Literature in 1948. (Ezra Pound called T. S. Eliot,
"Old Possum"
.) Eliot's collection of poems reappears as the smash musical, "Cats", by Andrew Lloyd Webber (London 1981-2002 and Broadway 1982-2000).
---
RENEE AND RUTHIE IN PROVINCETOWN
Copyright (C) 1996 by Mary Andrist Leech; all rights reserved.
Roses fell in great folds
over the fences
filling my eyes with the season.
Rain fell in whispered voices
surrounding us;
I wondered if we were dying.
Rose petals fell like soldiers
one by one, shocking the window sill with their blood.
I touched your hand;
you stirred your coffee.
Breakers fell like huge tears,
one by one, staining the beach
all the way to Cahoon Hollow.
I slipped my hand in yours, you slipped away.
Inside, I haunted the hallways,
pale as a Nantucket ghost. Outside you hunted,
a dusky Diana unfolding.
The portrait over the mantelpiece
stared at half empty coffee cups
grown cold.
We are very proud of Jill's sister, Mary Andrist Leech. Mary won first prize for this poem in the "Cape Cod Prime Time" magazine, 1996 writing contest! It appeared in the December 1996 issue. (On page 18, but who's counting? :-)

Note: Mary originally dashed this off as a take-off on what New Yorker Magazine likes. By the time she finished, her spoof was good enough to win!
---
TWO POEMS
by Finnish poet Henry Parland (1908-1930)
Untitled

The gospels are served up
as sanctifying
-- so also this:

On four words
created by the devil himself
hangs all suffering:
ugly, beautiful, good, bad.


Gasoline

I am a great God
and my price is $1.40 per gallon
and men murder one another for my sake.

Whee!
when fire has kissed me
and iron trembles: life!
Then
I know
why I have dreamt so long
under the earth.
Translated from Swedish by Peter Malekin. From Hamlet Said It Better, posthumous poems, 1964.
As reprinted in the collection, Sweden Writes: Contemporary Swedish Poetry and Prose, Views on Art, Literature and Society. Selected and introduced by Lars Backstrom and Goran Palm (The Swedish Institute, Stockholm, 1965).
---
GROOKS
by Danish poet/scientist/architect Piet Hein (1905–1996)
Ars Brevis

There is one art,
no more, no less:
to do all things
with artlessness.


T. T. T.

Put up in a place
where it's easy to see,
the cryptic admonishment
T. T. T.

When you feel how depressingly
slowly you climb,
it's well to remember that
Things Take Time.




Gospel Truth


People

take for gospel

things that are

imposs'ble.

---
A PALM-TREE
by German writer/poet Heinrich Heine (1797-1856)

A single fir-tree, lonely,

on a northern mountain height,
sleeps in a white blanket,
draped in snow and ice.
His dreams are of a palm-tree,
who, far in eastern lands,
weeps, all alone and silent,
among the burning sands.
---
THE RIDDLE OF THE DINOSAUR
by Bert Leston Taylor (1866-1921; Chicago Herald-Tribune, Oct. 24th, 1905)
Behold the mighty dinosaur
Famous in prehistoric lore,
Not only for his power and strength
But for his intellectual length.
You will observe by these remains
The creature had two sets of brains —
One in his head (the usual place),
The other in his spinal base.
Thus he could reason "A priori"
As well as "A posteriori."
No problem bothered him a bit
He made both head and tail of it.
So wise was he, so wise and solemn,
Each thought filled just a spinal column.
If one brain found the pressure strong
It passed a few ideas along.
If something slipped his forward mind
'Twas rescued by the one behind.
And if in error he was caught
He had a saving afterthought.
As he thought twice before he spoke
He had no judgment to revoke.
Thus he could think without congestion
Upon both sides of every question.
Oh, gaze upon this model beast;
Defunct ten million years at least.
By 1880, Stegasaurus was thought to have two brains, with the second, much-larger one in the hip region of its spine. That still-possible theory inspired this lovely 1905 poem.
---
The rails that run by Honey Creek are eaten up with rust,
And no one walks the greasy bed hid in the roses' dust;
But yet at night a slender ghost may stalk the quiet sky--
And bats will shiver as they see Kate Shelley going by.
Kate Shelley from a quiet house, Kate Shelley in the storm...
She took a lantern in her hand to keep her spirit warm;
The clouds came up and thundered haste and Honey Creek was foam;
The waters laughed with blackened breath below Kate Shelley's home.
"O daughter, go you to the door, I hear a whistle call,
Crying within the valley dark that shadows over all.
Your father was a section man; you are the seed he sowed..
So listen, listen in the storm and guard the iron road."
Her father was a section man; she knew the mighty wheels
That ground along the bottom land amid the tempest's heels.
She listened in the howling dark--and heard a sundered scream,
When ninety tons of steel went down into the boiling stream.
"My father was a section man--he reared me for the road.."
She climbed the gashed and sullen grade while oaken saplings bowed;
She prayed to gods of spade and pick, she prayed to tie and rail...
The river bridge was like a priest in rainy vestments pale.
The midnight coaches from the west plunged in the dripping rain;
West of Moingona ties were sound--east was a broken train.
(East in the bile of Honey Creek in one drowned, twisting curl,
Lay ninety tons of twisted steel.) Between them was a girl.
Under the river bridge was death--black fathoms frothing down.
Beyond Moingona sang the train on to a lonely town;
The engineer swayed in his cab, he could not see ahead;
"Two hours more...I leave the run and get me home to bed."
Two hours more...The whistle whined shrill in the driven rain,
Two hours more...(A broken span, a ghost where there was a train).
Across the river bridge a girl came creeping on the ties;
The wind wiped out her lantern flame, but still she had her eyes.


And still she had her Irish soul, and still she had her heart!
The spikes cut furrows in her skin and tore her flesh apart,
Two yards beneath, the river's tongue clove at the shaking span...
A wraith beside her urged her on: "I was a section man..."
Down in a pocket of the hills Moingona hid its head--
And men with muscles pillowed down, slumbering as the dead,
One light shone thinly through the night under the battled din,
A bleeding hand clutched the door--a torn shape staggered in.
No song of thanks, no valiant yell: "God! and the train is saved!"
None but wheels which tightened down when crimson lanterns waved;
Nothing but brandy held to lips by someone of the crew...
"I'll ride the cab," she said, "and show just where the boys went through."
She rode the cab and guided them. (The anxious whistle bawled.)
She rode in torn and bloody rags the ties where she had crawled.
And if the station mice were there they saw the sundered heap,
And watched the rescue party toil before Kate went to sleep.
And nine and forty years are gone; the trains no longer come
Along the crest of Honey Creek before Kate Shelley's home.
Oh, there were songs for other years when all the road was hers--
And there were men to bless her name, and gold to fill her purse.
But if you go to Honey Creek in some dark summer storm,
Be sure you take a lantern flame to keep your spirit warm,
For there will be a phantom train, and foggy whistle cries--
And in the lightning flare you'll see Kate Shelley on the ties.

This story is true; Kate Shelley was "The Iowa Heroine" who crawled across the Des Moines River Bridge on July 6th, 1881 to save a Chicago and North Western passenger train. But she was nearly forgotten when a young reporter, not yet known as one of America's great authors, wrote this tribute in 1930. This poem does not appear in MacKinlay Kantor's poetry collection, "Turkey In The Straw", and it isn't even listed by the U.S. Library of Congress. I am indebted to Charles Irwin of the Boone County Historical Society in Boone, Iowa for providing an old, typewritten copy, and am pleased to share it with you.
You can read more about Kate Shelley at:
Boone County Historical Society
Folklore Tribute to Kate Shelley
Wikipedia Talk: Kate_Shelley

Here is an earlier poem, "Kate Shelly", by Eugene J. Hall:
Kate Shelly poem
Two books:

"Kate Shelley and the Midnight Express : American folk legend", by Wesley Porter (1979)

"Kate Shelley and the Midnight Express", by Margaret K. Wetterer (1990)
And a videorecording:

"Kate Shelley and the Midnight Express" (2004)
---
TWENTY YEARS AGO
by Thomas Gold, Jr. (1939)
I've wandered by the village, Tom, I've sat beneath the tree

Upon the school-house playing ground, that sheltered you and me;

But none were there to greet me, Tom, and few were left to know

Who played with us upon the green, some twenty years ago.




The grass is just as green, dear Tom, barefooted boys at play

Were sporting just as we did then, with spirits just as gay.

The "master" sleeps upon the hill, which, coated o'er with snow,

Afforded us a sliding place, some twenty years ago.




The old shool-house is altered some; the benches are replaced

By new ones, very like the same our pen-knives had defaced.

But the same old bricks are in the wall, the bell swings to and fro,

Its music's just the same, dear Tom, as twenty years ago.




The boys were playing some old game, beneath the same old tree;

I do forget the name just now--you've played it oft with me

On that same spot; 'twas played with knives by throwing so and so.

The loser had a task to do then--twenty years ago.




The river's running just as still, the willows by its side

Are larger than they were, dear Tom, the stream appears less wide,

But the grape vine swing is ruined now, where once we played the beau

And swung our sweethearts--"pretty girls"--full twenty years ago.




The spring that bubbled 'neath the hill, close by the spreading beech,

Is very low--'t was once so high, that we could almost reach,

And kneeling down to get a drink, dear Tom, I started so,

To see how much that I am changed since twenty years ago.




Near by the spring upon an elm, you know I cut your name,

Your sweetheart's just below it, Tom, and you did mine the same.

Some heartless wretch had peeled the bark, 'twas dying sure but slow,

Just as that one whose name you cut died twenty years ago.




My lids have long been dry, dear Tom, but tears came to my eyes,

I thought of her I loved so well--those early broken ties.

I visited the old churchyard and took some flowers to strew

Upon the graves of those we loved some twenty years ago.




Some now are in the churchyard laid--some sleep beneath the sea,

But few are left of our old class excepting you and me;

And when our time has come, dear Tom, and we are called to go,

I hope they'll lay us where we played some twenty years ago.

I found this sentimental poem on page 62 of
The Whitestown Centennial
(1884), a fine book commemorating the one-hundredth anniverary of Hugh White and his family stepping ashore from their Mohawk River bateau in 1784 to extend English settlement west of Albany, New York. My analytical mind wishes this poem had been named
Fifty Years Ago
, but it's no less a choker-upper for that.

Page 65 of that historic book prints the Town Seal of the early (and vastly larger) Village of Whitesborough. It depicts Hugh White in a friendly wrestling contest with an Oneida Chieftain, accepting a favorite sport of his new neighbors. Some 230 years later, unknowing and suspicious fans of Political Correctness want Whitesboro's traditional seal redesigned; they assume Hugh White is strangling his new Indian friend. (Look closely at that 1881 engraving; White's hand is on the shoulder, and most certainly not about the throat, of his friend. Earlier in the book, there is further reference to the unusual trust that Hugh White and the Oneidas shared.) I am reminded that PETA, a modern animal-rights group, actually mounted a campaign to make New York State rename the Catskill Mountains--themselves ignorant of (and later, ignoring) the region's early Dutch-settler word for Creek, which was Kill; hence, Kaater's Kill, now Catskill. In Whitesboro, too, I hope that history-understood will persevere over the temporary enthusiasms of worst-assuming crowds.
BTW, Indian? Yes; back then, Native American was in neither group's vocabulary. And to this day, my Natick Praying Indian friends agree. History, after all, is His Story. Not ours.

---
FOUR PROMINENT BASTARDS
by Ogden Nash (1933)
Written for the Dutch Treat Club show, New York, March 1933.
He performed it for the Gridiron Club in 1941.

The banker:
I'm an autocratic figure in these democratic states.
I'm a dandy demonstration of hereditary traits.
As the children of the baker bake the most delicious breads,
As the sons of Casanova fill the most exclusive beds,
As the Barrymores, the Roosevelts, and others I could name
Inherited the talents that perpetuate their fame,
My position in the structure of society I owe
To the qualities my parents bequeathed me long ago.
My pappy was a gentleman and musical to boot.
He used to play piano in a house of ill repute.
The madam was a lady and a credit to her cult.
She enjoyed my pappy's playing, and I was the result.
So my mammy and my pappy are the ones I have to thank
That I'm chairman of the board of the National County Bank.

Chorus:
Oh, our parents forgot to get married.
Oh, our parents forgot to get wed.
Did a wedding bell chime? It was always a time
When our parents were somewhere in bed.
Oh, thanks to our kind, loving parents,
We are kings in the land of the free --
Your banker, your broker, your Washington joker,
Three prominent bastards are we, tralalala,
Three prominent bastards are we.

The broker:
In a cozy little farmhouse, in a cozy little dell,
A dear, old-fashioned farmer and his daughter used to dwell.
She was pretty, she was charming, she was tender, she was mild,
And her sympathies were such that she was frequently with child.
The year her hospitality attained a record high,
She became the happy mammy of an infant, which was I.
Whenever she was gloomy, I could always make her grin
By childishly inquiring who my pappy might have been.
The hired man was favored by the girls in mammy's set,
And a traveling man from Scranton was an even-money bet,
But such were mammy's motives, and such was her allure,
That even Roger Babson wasn't altogether sure.
Well, I took my mammy's morals, and I took my pappy's crust,
And I grew to be the founder of a big investment trust.

Chorus

The senator:
On a lonesome southern chain gang on a dusty southern road,
My late lamented daddy made his permanent abode.
Now some were there for stealing, but daddy's only fault
Was an overwhelming weakness for criminal assault.
His philosophy was simple and free from moral tape:
Seduction is for sissies -- a he-man wants his rape.
Daddy's total list of victims was embarrasingly rich,
And though one of them was mammy, he couldn't tell me which.
Well, I didn't go to college, but I got me a degree:
I reckon I'm the model of a perfect S.O.B.
I'm a debit to my country, but a credit to my dad:
I'm the most expensive senator the country ever had.
I remember daddy's warning me that rapin' is a crime,
Unless you rape the voters a million at a time.

Chorus

You and I:
I'm an ordinary figure in these democratic states,
A pathetic demonstration of hereditary traits.
As the children of the cops possess the flattest kind of feet
And the daughter of a floosy has a wiggle to her seat,
My position at the bottom of society I owe
To the qualities my parents bequeathed me long ago.
My father was a married man, and what is even more,
He was married to my mother, a fact that I deplore.
I was born in holy wedlock; consequently bye and bye
I was rooked by every bastard with plunder in his eye.
I invested, I deposited, I voted every fall,
And if I saved a penny, the bastards took it all.
At last I've learned my lesson and I'm on the proper track:
I'm a self-appointed bastard, and I'm going to get it back!

Chorus:
Oh, our parents forgot to get married.
Oh, our parents forgot to get wed.
Did a wedding bell chime? It was always a time
When our parents were somewhere in bed.
Oh, thanks to our kind, loving parents,
We are kings in the land of the free --
Your banker, your broker, your Washington joker,
Three prominent bastards are we (and ME!),
Four prominent bastards are we!
Joe Fineman (2006):
I looked this up at Harvard University. I copied it with a pencil (I was not allowed to photocopy it), and this is the result. I did not have time to copy the tune, but it is not the one Oscar Brand uses. I have never seen it in a collection, either.
-- It was published as a booklet (15 pp.): Four Prominent So and So's: lyrics by Ogden Nash, music by Robert Armbruster, illustrations by Otto Soglow; New York: Simon and Schuster, 1934. The Houghton Library at Harvard has it. In addition to changing the tune, Oscar Brand left out the fourth bastard & stanza, thereby depriving the song of its full malice.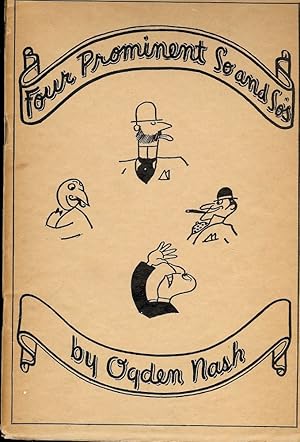 Dick Miller:
It's almost identical to the version that I learned in New York City, from Kelly Beller about 1950. I changed the chorus to "three", and added the "(and ME!)" to the different final chorus, as I learned it and as makes better sense. According to a note to the reader in the 1934 first edition, pirated editions of the Bowdlerized version had previously appeared and Nash was issuing it in its original form. He probably left it out of his 4-part anthology because "bastard" just wasn't socially acceptable then, at least in that context. Even the version he did print was entitled, "Four Prominent So and So's".
(Front cover of 1934 first edition)
---
I sit in one of the dives
On Fifty-second Street
Uncertain and afraid
As the clever hopes expire
Of a low dishonest decade:
Waves of anger and fear
Circulate over the bright
And darkened lands of the earth,
Obsessing our private lives;
The unmentionable odour of death
Offends the September night.
Accurate scholarship can
Unearth the whole offence
From Luther until now
That has driven a culture mad,
Find what occurred at Linz,
What huge imago made
A psychopathic god:
I and the public know
What all schoolchildren learn,
Those to whom evil is done
Do evil in return.
Exiled Thucydides knew
All that a speech can say
About Democracy,
And what dictators do,
The elderly rubbish they talk
To an apathetic grave;
Analysed all in his book,
The enlightenment driven away,
The habit-forming pain,
Mismanagement and grief:
We must suffer them all again.
Into this neutral air
Where blind skyscrapers use
Their full height to proclaim
The strength of Collective Man,
Each language pours its vain
Competitive excuse:
But who can live for long
In an euphoric dream;
Out of the mirror they stare,
Imperialism's face
And the international wrong.
Faces along the bar
Cling to their average day:
The lights must never go out,
The music must always play,
All the conventions conspire
To make this fort assume
The furniture of home;
Lest we should see where we are,
Lost in a haunted wood,
Children afraid of the night
Who have never been happy or good.
The windiest militant trash
Important Persons shout
Is not so crude as our wish:
What mad Nijinsky wrote
About Diaghilev
Is true of the normal heart;
For the error bred in the bone
Of each woman and each man
Craves what it cannot have,
Not universal love
But to be loved alone.
From the conservative dark
Into the ethical life
The dense commuters come,
Repeating their morning vow;
"I will be true to the wife,
I'll concentrate more on my work,"
And helpless governors wake
To resume their compulsory game:
Who can release them now,
Who can reach the deaf,
Who can speak for the dumb?
All I have is a voice
To undo the folded lie,
The romantic lie in the brain
Of the sensual man-in-the-street
And the lie of Authority
Whose buildings grope the sky:
There is no such thing as the State
And no one exists alone;
Hunger allows no choice
To the citizen or the police;
We must love one another or die.
Defenceless under the night
Our world in stupor lies;
Yet, dotted everywhere,
Ironic points of light
Flash out wherever the Just
Exchange their messages:
May I, composed like them
Of Eros and of dust,
Beleaguered by the same
Negation and despair,
Show an affirming flame.
From Another Time, Poems by W. H. Auden (1940). Auden later disowned this poem, which he wrote at the outbreak of World War II, in the same year he moved from England to the USA. The poem apparently was also inspired by Psychology and Religion (C. G. Jung, 1938).

---
April 18th - Protest march:
First, students stood, and asked to speak
With rulers now grown old and weak.
They sought a fair exchange of views,
Honest rulers, honest news.
Their rulers shunned them, week by week.


April 22nd - Hunger strike:
The students stood in Tiananmen Square.
"Democracy!", they said. "Be fair!"
Soon, a million with them stood
And all were hopeful, all were good.
But the rulers were not there.
May 20th - Martial law declared:
At last, the rulers gave a sign.
They would maintain their Party line,
Ignore the people, suppress the news,
Fight to hold their hard-won views.
To act all-knowing, yet still benign.
May 20th - Army dispatched:
The people bravely held their Square.
When tanks and soldiers tried to marshal there,
Ten thousand unarmed patriots before them stood
And stopped them, chanting "Brotherhood!"
The rulers must have torn their hair.
June 4th-27th - Army attacks defenseless citizens:
Forty-four days these patriots held their ground,
But then, less friendly soldiers came around
And massacred five hundred, or three thousand. Some say more;
Perhaps we'll never know the awful score.
The rulers then were nowhere to be found.
Epilogue:
The rulers, heroes once themselves, thus fiercely held their sway.
In Tiananmen Square, new heroes bled their lives away.
Beijing, and soon all China, saw the truth:
Old heroes now oppressed the country's youth.
Old heroes once, they lost their nation's love today.

First published in The Middlesex News (Framingham, Massachusetts, USA), June 14th, 1989 (page 13A). Copyright 1989 by A.R.Miller.
---
He said, "You can fly! You have but to try!"
"Like hell, we can!" said Bill.
Bill looked at me, and he winked his eye,
But we started up the hill.

The day is mild, the sky is blue,
The wind blows light and steady.
We reach the top and walk across
To the cliff. Says he, "We're ready."

Small pines point up from the valley floor,
As we view the ground below.
I look at Bill, Bill looks at me,
And together, we say, "No!"

"It's not that hard," our teacher says,
"So long as you don't say no."
"No way!", says Bill. He starts down the hill,
and I turn to follow him, so.

But I turn and look as, at the ledge,
Our teacher cries, "Let's go!"
He floats off the grass, across the edge,
And slowly drifts below.

"You can fly!", I hear. It's in my ear
The rest of the way back home.
Bill thinks I'm nuts, and perhaps he's right,
But I plan to climb back, alone.

--I wrote this poem upon awakening one morning in April, 2011.
"You can fly!" "You can fly!" "You can fly!" The image remained from a dream. It seemed a perfect fit for the 20th anniversary of the Linux computer operating system (in August 2011), and for the GNU/Linux philosophy. Free, open-source software - the opposite of what's sold in the stores. You can just do it. Expert or beginner, you can help to spread the word and to make Linux better.

But the typical first response is resistance. We are accustomed to follow our beaten paths, and this offer seems too good to be true. Isn't it just another fake advertisement, exaggerating the benefit and ignoring the hassle? Dare we to accept the challenge?

Decades earlier, my wife and I used and taught another computer language, Forth. Our company's own brand was MMSFORTH. In those days of speed-limited and capacity-limited computers, Forth was a "magic wand" for us and others. But it was different, and too good to be readily believable. It was a hard sell. I learned to liken it to that magic wand, saying, "If I were to ask you to flap your arms and jump off a cliff, you'd rebel. But suppose that it could work. How would you ever find out? Forth is that good, and you won't know unless you try. Here, let me give you a short demonstration." Some stayed to learn, and did learn. But most assumed that it couldn't work that well, and moved on.

I did the same with Esperanto, the simple bridge language for humans. "Not my cup of tea", was my first response. But ten years after I had attended that lecture about Esperanto, I recalled it in a conversation with my new wife. She checked it out, I followed, and that brought both of us into one of the many "parallel universes" that have enriched our lives. As Piet Hein said, and often it's true, "T.T.T."

This poem is about the moment of acceptance of a challenge. It can be any challenge which your mind has been prepared to reject, but which awakens your curiosity. We all have these moments of growth. Some are rites of progress for all. Some are rare. A few of these moments change society.

Neotony is the preservation of childish traits into maturity. Curiosity is one of those traits, and lucky is the human who preserves curiosity into later life. Parents, friends, and other teachers channel our native curiosity to the society's goals, and away from danger both real and perceived. Advertisers try to channel our curiosity - and fears - into buying their goods. Politicians and other lawyers... Let's not even go there.

Once we've been trained to "know" what's right and wrong, only the most neotenous of us are likely to break the mold. But that is how we grow. "You can do anything you put your mind to!" is overstated. But you can make significant changes for the better, once you put your mind to it. Can you recognize the right challenge? Do you dare? Do you accept the challenge?
Things take time.
--Dick Miller (August 2011)

---
PROTEST
by Ella Wheeler Wilcox (1850–1919)
("Poems of Problems", pp. 154–55; 1914)


To sin by silence, when we should protest,

Makes cowards out of men. The human race

Has climbed on protest. Had no voice been raised

Against injustice, ignorance, and lust,

The inquisition yet would serve the law,

And guillotines decide our least disputes.

The few who dare, must speak and speak again

To right the wrongs of many. Speech, thank God,

No vested power in this great day and land

Can gag or throttle. Press and voice may cry

Loud disapproval of existing ills;

May criticise oppression and condemn

The lawlessness of wealth-protecting laws

That let the children and childbearers toil

To purchase ease for idle millionaires.

Therefore I do protest against the boast

Of independence in this mighty land.

Call no chain strong, which holds one rusted link.

Call no land free, that holds one fettered slave.

Until the manacled slim wrists of babes

Are loosed to toss in childish sport and glee,

Until the mother bears no burden, save

The precious one beneath her heart, until

God's soil is rescued from the clutch of greed

And given back to labor, let no man

Call this the land of freedom.

Ella Wheeler Wilcox fought for U.S. Women's Suffrage.

This poem inspired Rachel Carson to write her famous protest letter in 1953, to write "Silent Spring" in 1962, and to inspire, in turn, the creation of Earth Day and of the U.S. Environmental Protection Agency.
---
Let America be America again.
Let it be the dream it used to be.
Let it be the pioneer on the plain
Seeking a home where he himself is free.

(America never was America to me.)

Let America be the dream the dreamers dreamed--
Let it be that great strong land of love
Where never kings connive nor tyrants scheme
That any man be crushed by one above.

(It never was America to me.)

O, let my land be a land where Liberty
Is crowned with no false patriotic wreath,
But opportunity is real, and life is free,
Equality is in the air we breathe.

(There's never been equality for me,
Nor freedom in this "homeland of the free.")

Say, who are you that mumbles in the dark?
And who are you that draws your veil across the stars?

I am the poor white, fooled and pushed apart,
I am the Negro bearing slavery's scars.
I am the red man driven from the land,
I am the immigrant clutching the hope I seek--
And finding only the same old stupid plan
Of dog eat dog, of mighty crush the weak.

I am the young man, full of strength and hope,
Tangled in that ancient endless chain
Of profit, power, gain, of grab the land!
Of grab the gold! Of grab the ways of satisfying need!
Of work the men! Of take the pay!
Of owning everything for one's own greed!

I am the farmer, bondsman to the soil.
I am the worker sold to the machine.
I am the Negro, servant to you all.
I am the people, humble, hungry, mean--
Hungry yet today despite the dream.
Beaten yet today--O, Pioneers!
I am the man who never got ahead,
The poorest worker bartered through the years.

Yet I'm the one who dreamt our basic dream
In the Old World while still a serf of kings,
Who dreamt a dream so strong, so brave, so true,
That even yet its mighty daring sings
In every brick and stone, in every furrow turned
That's made America the land it has become.
O, I'm the man who sailed those early seas
In search of what I meant to be my home--
For I'm the one who left dark Ireland's shore,
And Poland's plain, and England's grassy lea,
And torn from Black Africa's strand I came
To build a "homeland of the free."

The free?

Who said the free? Not me?
Surely not me? The millions on relief today?
The millions shot down when we strike?
The millions who have nothing for our pay?
For all the dreams we've dreamed
And all the songs we've sung
And all the hopes we've held
And all the flags we've hung,
The millions who have nothing for our pay--
Except the dream that's almost dead today.

O, let America be America again--
The land that never has been yet--
And yet must be--the land where every man is free.
The land that's mine--the poor man's, Indian's, Negro's, ME--
Who made America,
Whose sweat and blood, whose faith and pain,
Whose hand at the foundry, whose plow in the rain,
Must bring back our mighty dream again.

Sure, call me any ugly name you choose--
The steel of freedom does not stain.
From those who live like leeches on the people's lives,
We must take back our land again,
America!

O, yes,
I say it plain,
America never was America to me,
And yet I swear this oath--
America will be!

Out of the rack and ruin of our gangster death,
The rape and rot of graft, and stealth, and lies,
We, the people, must redeem
The land, the mines, the plants, the rivers.
The mountains and the endless plain--
All, all the stretch of these great green states--
And make America again!


---

My heart leaps up when I behold
A rainbow in the sky:
So was it when my life began;
So is it now I am a man;
So be it when I shall grow old,
Or let me die!
The Child is father of the Man;
And I could wish my days to be
Bound each to each by natural piety.


The day after William Wordsworth wrote this poem, he began his major work, "Ode: Intimations of Immortality"
.



---
THE ART OF MAKING AN OMELETTE
by Peggy Sapphire (Jewish Currents, ca. 2000)

At the moment his Liederkranz cheese reached
consummate ripeness on our kitchen counter,
almost liquid with two weeks' pungency,
my immigrant father, no stranger to making do,
searched the ice box for omelette ingredients.

Liederkranz was a landsmann bearing accent,
a handshake and tears to his eyes, was
brazen with stink only to those who did not know better.
So…yes…the ice box. There he found a solitary green pepper,
an abandoned onion, two serviceable potatoes
and four fine eggs.

As the Teuton he was, my father diced the potatoes into
one-quarter inch cubes with the same surgery he applied to
his weekly wages, then cut similarly sized squares of
onion and pepper. He sautéed all and began
coaxing the edges of the four beaten eggs
as they bubbled in butter in the cast iron skillet.
Bach or Beethoven or Brahms gave grace to our little feast.

We dined at the table I set, he and I, giant golden omelette halves
for each, the Liederkranz centered on a saucer between us
its tin-foiled paper peeled back like petals.
We slathered it on, I as apprentice learning to smear it
across my slices of rye, to take big bites.
He poured the wine. Red.

Talk began. The politics of war and money, union organizing,
Franco, Jew haters, the KKK and dead friends.
"Now I can tell you why I ran," he said. "I ran for my life,
my working man's life, my immigrant
life, my learning English life, my 'brother can you spare a dime' life,
my loving Paul Robeson life, my Free The Rosenbergs life.
Now I can tell you how I sang the anthems of
Pete Seeger, The Weavers and Josh White."

"Is that why we moved, each time without warning, in the dawning hours,
headlights on the two-laner North, our car loaded like a truck bed?
Is that why I was taught the sleight of sliding The Daily Worker inside
The Herald Tribune, sent so lonely to do that chore each morning?
Is that why you left us, finally, when the sub-committee found
our front door and pounded day and night?
Is that why you told me trust no one tell no one
we're like no one no one will understand?"

Holy WQXR News On The Hour silenced us with its signal.
Five minutes of reverence for world affairs, the world of the
Red Menace, Blacklists, White Supremacy, Coloreds
at the back of the bus.
A world in which my father found no safe way home
from the old country to the new, no way back to the
grandfather I would never meet,
whose lessons of Flight and Survival,
of Auschwitz and smoke stacks
were passed along as legacy,
with the art of making an omelette.